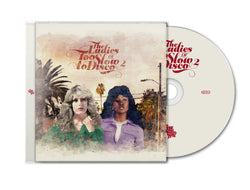 The Ladies Of Too Slow To Disco 2 CD
CD comes in jewel case with printed card sleeve.
01 TEREA – Pretty Bird                                                                 
02 MARTI CAINE - Love the Way You Love Me                               
03 DIANE TELL – Mon Ami-e                                                 
04 LULU – I Love to Boogie                             
05 KARLA BONOFF – Isn't It Always Love                            
06 FRANNE GOLDE - Here I Go Fallin' In Love Again               
07 MARTEE LEBOUS – For David                                  
08 LONETTE MCKEE - The Way I Want to Touch You  
09 KRISTLE MURDEN – I Can't Let Go                                               
10 JANIS SIEGEL – Lovin' Eyes                                    
11 LINDA TILLERY – Womanly Way                                                    
12 ULLANDA MCCULLOUGH – I'll Just Die               
13 NICOLETTE LARSON – Baby, Don't You Do It            
14 VALERIE CARTER – The Story of Love                             
15 ELKIE BROOKS – The Rising Cost of Love                        
16 HOLLY NEAR – Back Off
On Volume 2 of The Ladies of Too Slow to Disco, DJ Supermarkt has brought together 16 compelling tunes and hidden gems from 1974-82 that tell a deeper, more political story, while taking the suave sounds you love into new territory: soul, gospel and jazz. The songs on this compilation are from women who were taking control of their own careers, making an independent stance in the some of the most trying years for women in the history of the recording industry. In an effort to tell the often untold, yet deeply influential, stories of this delicious period of music, Volume 2 highlights songs from players who broke through the machismo that sat upon the glass ceiling before them to create classics.
 As with every TSTD release, you will uncover lost classics and should-have-been-hits into the overdue limelight. You'll find confessional funk and sultry disco, 5th Avenue flounce and soulful midnight aching.
You will discover artists here who were movers and shakers from the 1970s Women's Music movement, artists determined to fashion a music industry that worked for them.
You're in the company of musical royalty. The Ladies of Too Slow to Disco 2 brings you the smartest writers and singers, Grammy winners and unforgettable performers, all at the peak of their powers.