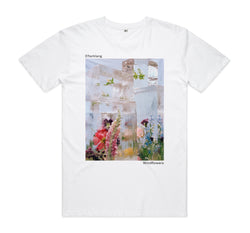 Efterklang's 6th album Windflowers released Oct. 8th 2021 on City Slang features beautiful artwork by Hvass&Hannibal and photographer Tine Bek. You can order the album here.
Windflowers (better known as anemones) is a symbol for hope and the coming of spring and new life. Creating the artwork Hvass&Hannibal freezed in a spring fresh windflower in a huge block of ice. 

Printed on an surpreme quality unisex styled white T-shirt of 100% combed organic cotton (Stanley/Stella - heavy - 220g/m2). The T-shirt is vegan and certified fair wear.