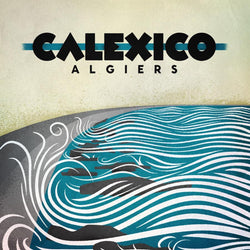 Comes in a thick tri-fold digipak.
Ltd. 2CD Deluxe Edition incl. extra album "Spiritoso" recorded live with symphonic orchestras in Vienna and Potsdam.
Algiers Tracklist 
1. Epic
2. Splitter
3. Sinner In The Sea
4. Fortune Teller
5. Para
6. Algiers
7. Maybe On Monday
8. Puerto
9. Better And Better
10. No Te Vayas
11. Hush
12. The Vanishing Mind
Spiritoso Tracklist
1. Frontera / Trigger
2. Epic
3. The News About William
4. Black Heart
5. Minas De Cobre
6. Inspiracion
7. Two Silver Trees
8. Para
9. Quatrro (Worlds Drift In)
10. Crystal Frontier
11. The Vanishing Mind
12. Fortune Teller
Algiers is the seventh studio album from the band, released on 11th September 2012. The album's name comes from Algiers, New Orleans which is where the album was recorded.