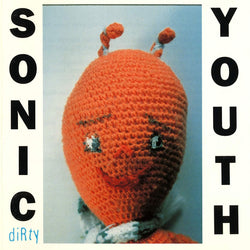 Tracklist:
1. 100% 
2. Swimsuit Issue 
3. Theresa's Sound-World 
4. Drunken Butterfly 
5. Sheet
6. Wish Fulfillment 
7. Sugar Kane 
8. Orange Rolls, Angel's Spit  
9.Youth Against Fascism
10. Nic Fit 
11. On The Strip 
12. Chapel Hill 
13. Stalker
14. JC
15. Purr
16. Crème Brulee 
The Seventh studio album from Sonic Youth. Dirty was originally recorded in early 1992 with producer Butch Vig and engineer Andy Wallace. This was the same team that had worked on Nirvana's Nevermind. What they produced turned out to be one of Sonic Youth's best albums.