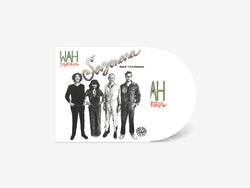 Wah Together
Sayonara / I'm a Swimmer 7"
Wah Together's "Sayonara / I'm A Swimmer" 7-inch is out December 3, 2021 on white vinyl via Dedstrange ahead of their debut full length coming in early 2022.
"Sayonara / I'm A Swimmer," is the debut 7-inch by NYC Supergroup Wah Together which features Phil Mossman (LCD Soundsystem), Vito Roccoforte (The Rapture), Steve Schiltz (Longwave) and front woman Jaiko Suzuki (Electroputas).  On "Sayonara / I'm A Swimmer", Infectious Japanese Yé Yé beats swipe right on noisy, noir-tinged motorik excursions to form a psychedelic garage-rock power couple at 45 rpm.  "Sayonara" bids a fond farewell to sweet memories of a lost lover with skewed-but-sugary '60s pop melodies, swinging, big beat drumming and no-wave guitar rave-ups like The Runners Four-era Deerhoof raining on Broadcast's Tender Buttons parade.  On "I'm A Swimmer," a crying broken heart demands answers from the universe with brutalist post-punk precision unmoored by prickly, effects-laden guitars, a propulsive chorus and layers upon layers of distorted stomp n' skronk.  At a time when the economics of music-making increasingly pushes young artists to work alone and "in the box," Wah Together is an impassioned defense for a shared act of creation.  Tracked spontaneously and principally live, "Sayonara / I'm A Swimmer" captures the immediacy and spontaneity of a group of musicians listening to— and playing off— one another with genuine affection, curiosity and joy.